SOUNDPROOFING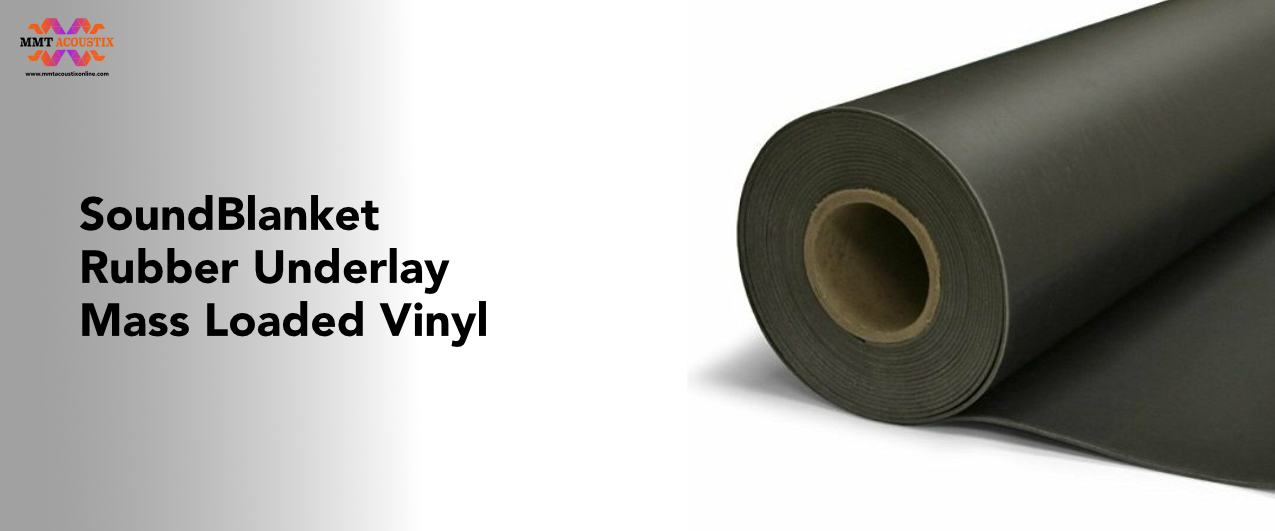 Soundproofing Material : SoundBlanket Underlay
MMT Acoustix® SoundBlanket Rubber Underlay is a mass loaded vinyl composite. A soundproofing material, which isolates sound, blocks high frequencies, reduces vibrations from walls, ceilings and floor. To create a noise free environment in any kind of project, this soundproofing material is most important product offered by MMT Acoustix®. Most architects, building engineers and acoustic engineers choose SoundBlanket underlay for soundproofing in India.
MMT Acoustix® SoundBlanket Rubber Underlay comes in roll form, available in different thicknesses starting from 3mm to 12mm depending upon the requirement of sound blocking and sound isolation. This soundproofing product is durable, fire retardant, water retardant, anti rodent and highly effective for noise isolation.
MMT Acoustix® SoundBlanket Rubber Underlay is used as primary layer on walls, ceiling and floors and further covered by wood, bricks, gypsum, cement sheets, acoustic panels, acoustic foam, wooden flooring, ceiling gypsum tiles etc. The high density soundproofing building material comes in roll form of 32x4 Feet. It's available in India and other parts of India for swift supply and deliveries. .


Major Applications: Soundproofing in Auditoriums, Soundproofing in Schools, Soundproofing in BPO, Soundproofing in Call Centers, Soundproofing in Offices, Soundproofing at Home, Soundproofing in Studio, Soundproofing in Home theater, Soundproofing in Multiplex, Soundproofing in Conference Rooms, Soundproofing in Sports Complex, Soundproofing in Recording rooms.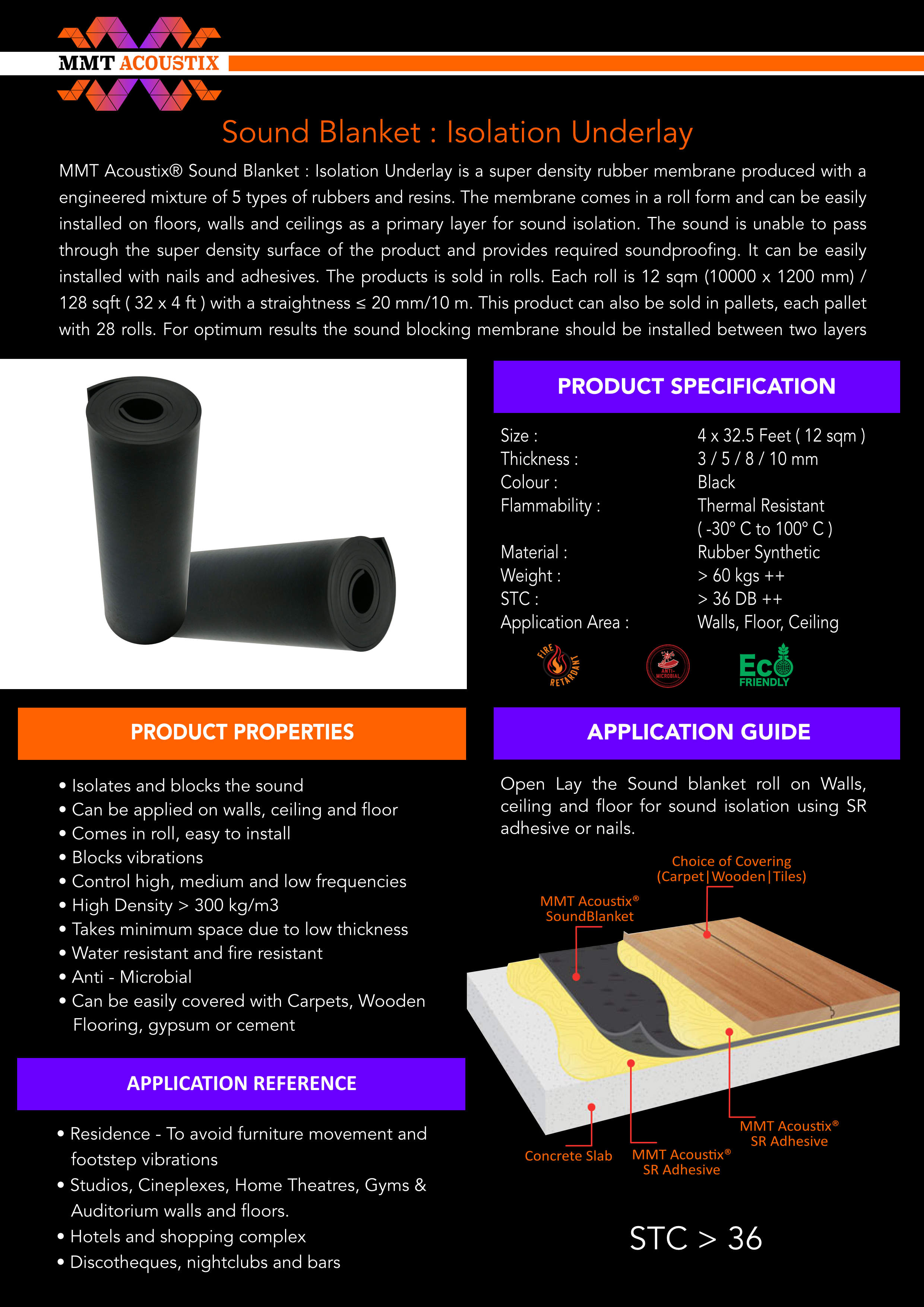 ---
Soundproofing Material : Sound Insulation Pad
MMT Acoustix® Sound Insulation Pad is a high density sound absorber that converts the sound's kinetic energy into heat energy while absorbing the sound waves. Sound insulation pads are made from MMT Acoustix® acoustic polyurethane technology which was introduced in India in 2003. The product is fire retardant and durable.
Sound Insulation pad being light in weight can be applied on any surface and material. Its majorly used behind gypsum tiles on ceilings and walls. It absorbs sound and kills the noise. Good for high medium and low sound frequencies. It is a must to apply sound insulation pads above noise isolators to facilitate better soundproofing and acoustic treatment.
As sound insulation pad is made from acoustic foam, it not only helps in blocking sound but also absorbs echo in the room. This soundproofing pad is the best alternative of rockwool and glasswool. Its appreciated by architects and designers to use sound insulation pads as it is odor free, non cacogenic, non itchy and durable. .


Major Application: Sound Absorbing in Auditoriums, Sound Absorbing walls in Hotels, Sound Absorbing floors in Malls, Sound Absorbing in Home Theatres, Sound Absorbing Cinema Halls, Sound Absorbing in Recording Studios, Sound Absorbing in Factory and Plants, Sound Absorbing in Trains, Sound Absorbing in Ships & Vessels, Sound Absorbing in Schools, Sound Absorbing in Halls, Sound Absorbing in Banquets.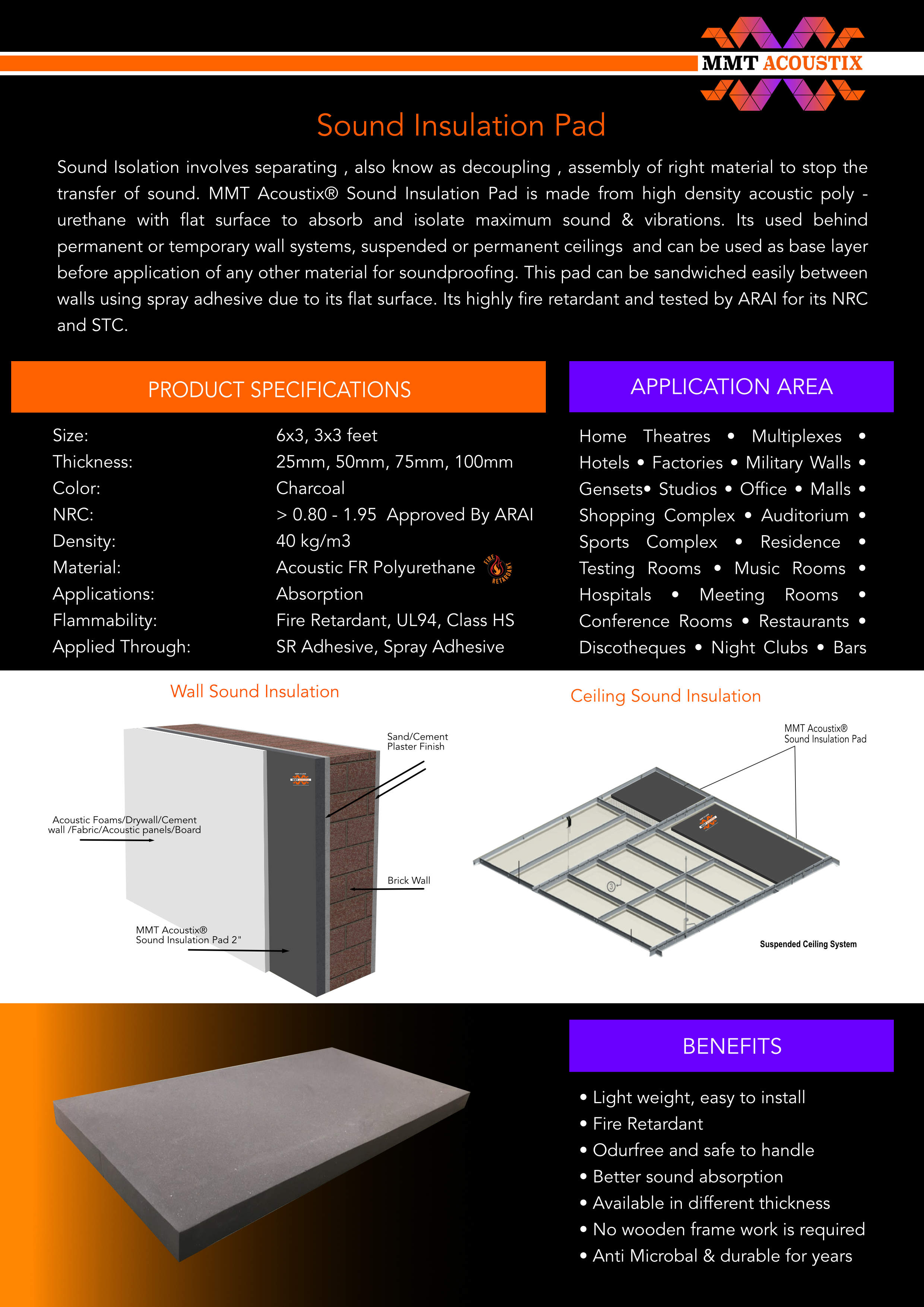 BUY ACOUSTIC FOAM ONLINE