Smart Security Automation:
MMT Acoustix Smart security Automation allows easy and wireless surveillance at your home or work. Smart security automation secures your home with Smart CCTV Cameras, Motion Sensors, Video Door Phones, Burglar alarms, biometric access controls, Gas Leak detection, glass break alarms and GPS monitoring. Shoots instant notifications on your mobile application.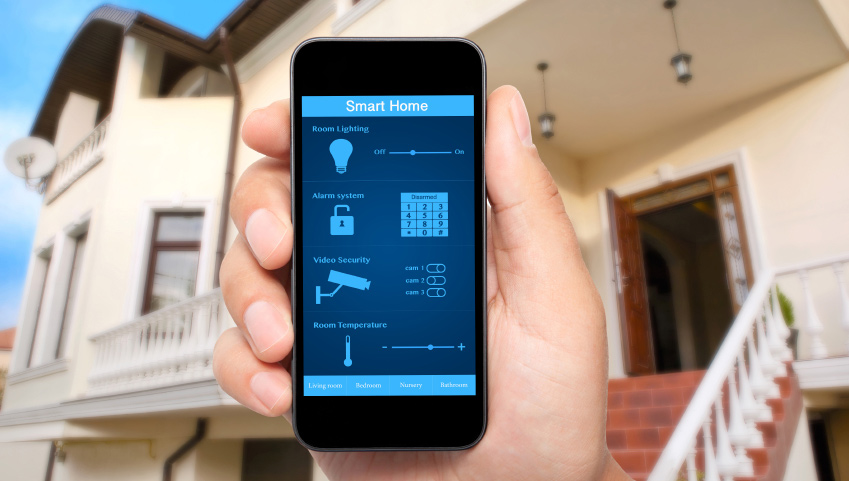 CCTV / IP Cameras –
☛ Integrate your CCTV cameras with our centralized automation system to experience the digital security
☛ Through Internet connection monitor from anywhere across the globe
☛ Our systems integrate with any existing IP based CCTV camera systems
Digital Door Locks –
☛ Track each entry / exit on your mobile app
☛ We offer biometric systems for robust security
Video Door Phones –
☛ Wherever you are, answer your doorbell from any part of the world
☛ Integrates with your access control and manages entry / exit
Gas Leak Detectors / Smoke Alarms / Fire Alarms –
☛ Instant notification on your mobile
☛ Siren Alert for immediate action
☛ Switches off your regulator in case of gas leakage – Isn't it amazing?
Burglar Alarms and Motion Sensors –
☛ Detects any unexpected motion and performs predefined actions – Siren / notifications / lightning on-off
☛ All activities monitored using mobile app
Door Sensors –
☛ Check your door status on mobile App.
☛ Time based alerts and siren integration
GPS Tracker –
☛ Now track the location of your kids on your mobile app
☛ Just place the smart tracker in their school bags and stop worrying